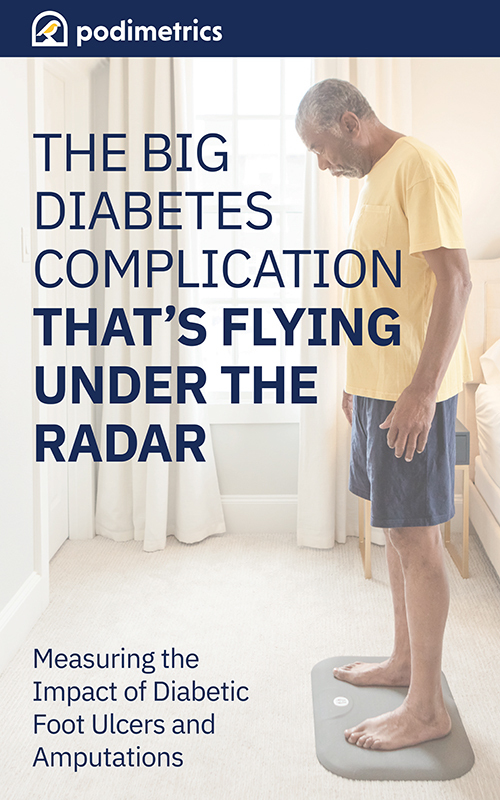 A Simple Guide To Uncover The Hidden Diabetes Complication Often Overlooked
The big—and costly—diabetes complication you may not know about…
It is well known that people with diabetes are at an increased risk of developing cardiovascular disease, stroke, and kidney failure due to their condition. However, diabetes has another overlooked complication: diabetic foot complications such as diabetic foot ulcers (DFUs).

These seemingly minor complications can go unnoticed until they become significant problems: diabetic amputations. And once they cause amputations, they have devastating effects on patient's lives and the nation's health care system.
Over 37 million Americans live with diabetes, and it costs $327 billion annually. 1 However, the cost skyrockets in the presence of DFUs, surpassing expenses for the five most costly cancers 2 — a whopping $100 billion.3
Our latest eBook, The Big Diabetes Complication That's Flying Under the Radar, explores the intricate details of this pressing issue. Discover everything about diabetic foot complications, including their impact on patients, healthcare providers, and payors.
What' you'll learn:
How the problem manifests

Why it's so critical

How you can address this issue, affecting 11.6 million Americans annually

4
Topics include:
Diabetic Foot Complications and the Body

The True Cost of Diabetic Foot Complications

The Underserved Patient Population with Diabetic Foot Complications

The Power of Prevention: Catching Diabetic Foot Complications Earlier
Download this insightful eBook now.
Start Realizing Cost Savings ASAP
Our team is here to help and answer any questions you may have. We look forward to being in touch with you.
References:
Centers for Disease Control and Prevention. The Facts, Stats, and Impacts of Diabetes. https://www.cdc.gov/diabetes/library/spotlights/diabetes-facts-stats.html#:~:text=The%20eighth%20leading%20cause%20of,that%20people%20without%20diabetes%20have. Accessed April 14, 2023.

Barshes, et al.

Diabet Foot Ankle.

2013 

Armstrong, et al.

J Foot Ankle Res

. 2020

Armstrong, et al,

N Eng J Med

. 2017