Help Combat Diabetic Foot Ulcers, Cut Costs, and Improve Outcomes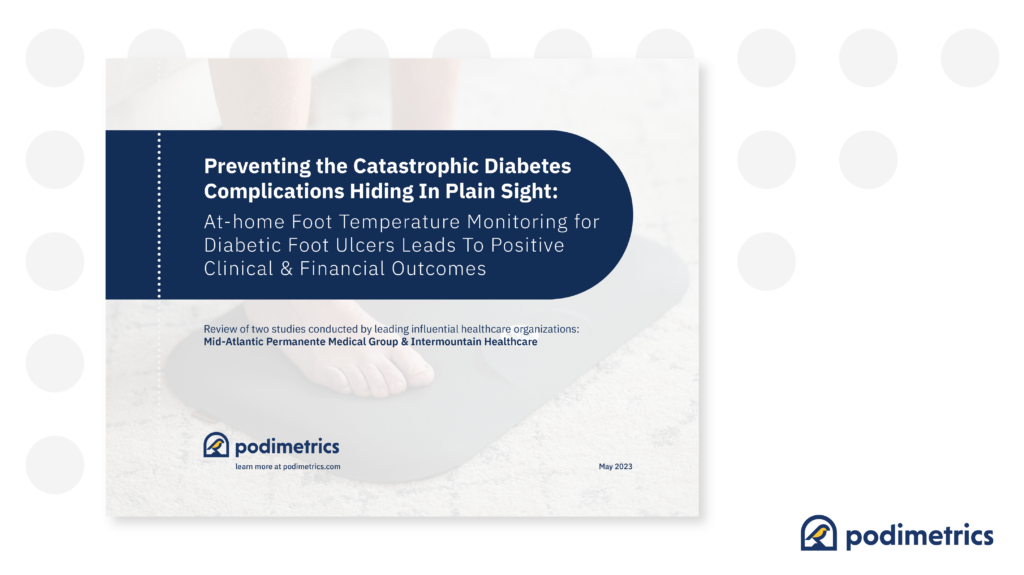 Our white paper reveals the advantages of at-home foot temperature monitoring
This white paper "Preventing Catastrophic Diabetes Complications Hiding In Plain Sight: At-home Foot Temperature Monitoring for Diabetic Foot Ulcers Leads To Positive Clinical & Financial Outcomes", illustrates how the Podimetrics SmartMat™ and virtual care can enhance outcomes and reduce costs.
The effectiveness of daily remote foot temperature monitoring using Podimetrics SmartMat™ technology, coupled with customized virtual patient care support, was demonstrated through two assessments conducted by health plans. Results revealed detection of inflammation as a precursor to a visible diabetic foot ulcer (DFU) and delivered several benefits for both members and health plans, such as better patient engagement, reduced costs, and improved outcomes.
Key highlights and positive findings from this comprehensive white paper:
Clinical outcomes




Resource utilization




Financial impact




Engagement and experience




for patients and providers



By empowering members and creating smarter care mechanisms, payors can take control of, and definitively resolve, a previously intractable issue. Our white paper provides valuable analysis and key factors into how these outcomes were achieved. Get your hands on this educational white paper today.
Download now
Start Realizing Cost Savings ASAP
Our team is here to help and answer any questions you may have. We look forward to being in touch with you.
References:
Centers for Disease Control and Prevention. The Facts, Stats, and Impacts of Diabetes. https://www.cdc.gov/diabetes/library/spotlights/diabetes-facts-stats.html#:~:text=The%20eighth%20leading%20cause%20of,that%20people%20without%20diabetes%20have. Accessed April 14, 2023.

Barshes, et al.

Diabet Foot Ankle.

2013 

Armstrong, et al.

J Foot Ankle Res

. 2020

Armstrong, et al,

N Eng J Med

. 2017